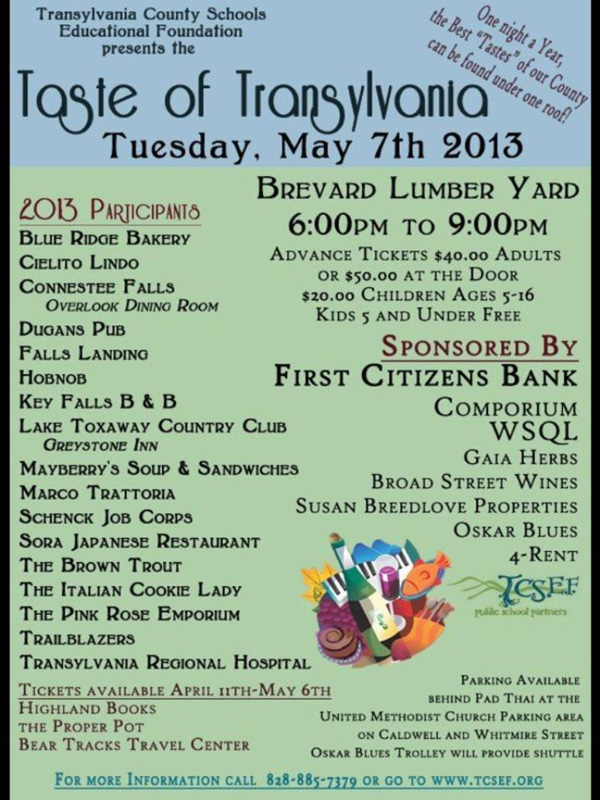 Details for the Taste of Transylvania, the premier fundraiser for the Transylvania County Schools Educational Foundation (TCSEF), are being finalized. The TCSEF provides annual mini-grants to enrich the opportunities of our public school students by supporting innovative programs provided by teachers and school administrators. Since its reorganization in 2008, the TCSEF has provided $48,000 in mini-grants to our public school teachers.
A terrific committee of community volunteers has been working diligently to recruit restaurants, sponsors and silent auction participants. First Citizens Bank returns as the lead sponsor the event, and this follows with First Citizens' commitment to public education.
They also serve as sponsor of the annual "Teacher of the Year" awards through the Transylvania County Public Schools.Comporium, Gaia Herbs, Broad Street Wines, Oskar Blues, WSQL, Susan Breedlove Properties and 4-Rent are also participating as sponsors.
This year, the event will be held at the Lumberyard between King Street and French Broad Avenue. Recipients of this year's grants from the Educational Foundation will be present to show the benefits of this fundraiser. Fifteen of the community's finest restaurants will be providing a "taste" of their foods.
Attendees will be asked to vote on the best appetizer, the best entrée, the best dessert, and the best overall. The Silent Auction committee has assembled a fabulous selection of items for bidding, and the agricultural programs from both Brevard High and Rosman High will have floral and garden items available for sale just in time for Mother's Day.
The event will run from 6 p.m. until 9 p.m. Tuesday, May 7. Ticket prices are $40 for adults and $20 for students under the age of 18. Employees of Transylvania County Schools receive a discounted ticket price.
Tickets may be purchased at Highland Books, Proper Pot, or Bear Tracks Travel Center.
For more information on this exciting event, please contact Jessica Merrill at the Transylvania County Schools, 884-6173, or by email jessicam@tcsnc.org. (Source: The Transylvania Times)
Photo gallery