When: Saturday, November 10 at 5 pm
Where: Brevard Lumber Yard – 200 King Street – Brevard, NC
Come out and enjoy a fine evening of live music, great food, movie screening, and Fine Art Gallery Show. The show will feature many regional and national Sculptors and Painters. A night furnace pour demonstration will be held courtesy of Blue Ridge College and a Fire Art Performance will be provided by our friends at 3rd-Degree-Burners.
Our Sponsors for the event include- Food Matters Market, Comporium of Brevard, Sierra Nevada, Oskar Blues, and Leder Properties. See who is going»
Come out for all of the Fun, and support the New Brevard Lumber Arts District.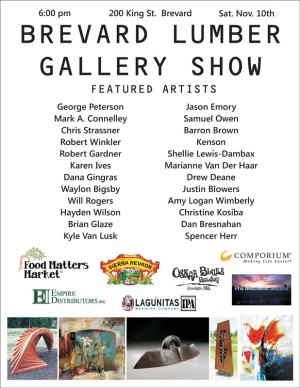 Featured Artists for the Show:
George Peterson, Mark A. Connelley, Chriss Strassner, Robert Winkler, Robert Gardner, Karen Ives, Dana Gingras, Waylon Bigsby, Will Rogers, Hayden, Brain Glaze, Kyle Van Lusk, Samuel Owen, Jason Emory, Barron Brown, Justin Blowers, Kenson, Shellie Lewis-Dambax, MarianneB Van Der Haar, Marguerite Gusdon, Amy Logan Wimberly.
Pre-film-fun starts at 5pm. Oskar Blues & Dugan's Pub DONATING libations! food vendors to sate your appetite. spOnsOr bOOths. mUsIc. Partial Proceeds to benefit the Carolina Climbers Coalition!
GRAND finale RR7film starts at 7pm!
*Lumber Yard is an outdoor venue…wear a jacket.

 Brevard Lumber Arts District Gallery Show | Reel Rock 7 Brevard
 THANKS to all of the event sponsors: Black Dome, Brevard Rock Gym, C.A.M.P., D.D. Bullwinkels, Dugan's Pub, Fox Mountain Guides, Looking Glass Outfitters, Oskar Blues, Pura Vida, Sycamore Cycles, & The Hub at Backcountry.
The 7th annual REEL ROCK Film Tour, launching fall 2012, brings the best in climbing and adventure films to local audiences across the globe. Events include prize giveaways and appearances by top climbers. REEL ROCK 7 will travel to over 350 locations across the globe.