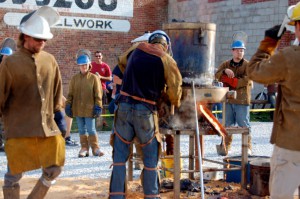 Brevard LumberYard Iron Pour (White Squirrel Festival)
Saturday, May 25, 2013 @ 2:00 pm
Things are heating up down at the Lumber Yard. The Mountain Sculptors Guild is back in town! Come out during the White Squirrel Festival for an amazing event! Watch experienced craftsmen create metal sculpture in person. This is an event for all ages. Scratch blocks will be provided for the kids to create their own personal art. Mold making will be instructed by international artist, Barren Brown. Delicious fare by Marco's Trattoria, music from Sound Extreme Entertainment and local beer will be provided. This is a great addition to all of the activities happening in town.

Although this is not an "official" LumberYard Event – we are glad our place can be put to good use until we open this July!
You don't want to miss this one!